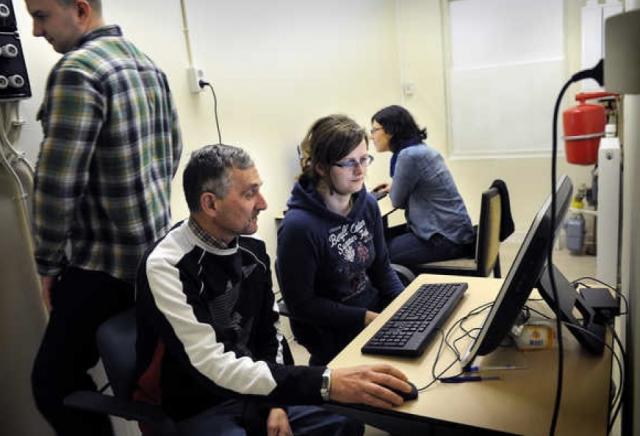 At Barka homeless doesn't mean hopeless
Since the start of the project the disruption of public order caused by the homeless Middle and Eastern Europeans significantly decreased. Barka helps to encourage them to look for jobs or to go back to the country of origin.
Utrecht
His personal record is 15 minutes. That's how long it took Piotr (31) to start and lose his job. He was managing to remain employed for longer : a week, once even a month but eventually he was always ending up the same – being fired. Piotr (name changed) is a regular visitor at Barka – Polish organization which helps the immigrants in the Netherlands. The Utrecht province is financing the activities of the Barka foundation; they help homeless immigrants build up their lives again.
Since 12 months Barka has it's office in the center of Utrecht, where the immigrants are supported in the job search. They named themselves the Social Economy Center. In a modestly arranged office there are two computers which can be used by the people who look for jobs, they can update their CV and write cover letters. Three Barka employees help them with those tasks. And it is not an easy job.
"Some people have been homeless for so long that it is extremely hard for them to go back to normal life" – says Tomasz Sochacki (31) who works as a job advisor. People who come to seek help have no of low education. Some of them don't speak English not to mention Dutch. Few are alcohol and/or drug addicts. The last is the biggest obstacle – says Sochacki. 'Sometimes they manage to keep the job for a week but once they get paid they go back to drinking again". Despite that Barka employees (Barka means: rescue boat) don't lose hope. "We keep on trying, sometimes it takes five, six times". In case of amphetamine addicted Piotr they tried the entire year, each time from the scratch. Today Piotr is in the office again, he's wearing a colorful sweater, holds a cigarette in his hand and talks loudly on his mobile.
In 2004 Poland joined European Union. Since then a lot of migrants started coming to The Netherlands. According to statistics only in 2012 the number of Polish migrants who came this year was 18.000. That's why Polish people are number one among the migrants from one country in the Netherlands. Most of them assimilates very well, but still quite a few ends up on the streets.

Disruption of public order
Few years ago the homeless day shelter in Utrecht got filled with Middle and Eastern European migrants. For councillor Victor Everhardt (Diversiteit, party D66) that was the main reason to have Barka in the Netherlands. "We started with launching the pilot project in 2012" – says Everhardt. "The results turned out to be so positive that the municipal council unanimously decided to continue with this method".
The public disruption caused by the migrants decreased 75%. Most of the people managed to arrange their life in the Netherlands, until now, with the help of Barka, 55 people found employment.
Nikolay (42) from Bulgaria has not found his dream job yet. He is a cook but for now he earns money selling street newspapers. Some time ago he unexpectedly ended up on the streets. His Dutch girlfriend dumped him and closed the door. At present Nikolay started the procedure which should help him legally arrange the contact with his two children. Barka is helping him. Nikolay: "I can call Barka for help even late in the evening".
"UE should do more to facilitate the integration process of the migrants"- says Magdalena Chwarscianek (31) – project coordinator of Barka in The Netherlands. "If the migrants are well integrated they can contribute much more to the society".
Barka is also present in Ireland, UK and since recently in Belgium. Chwarscianek believes in holistic approach – on one hand help the migrants to build the life abroad and on the other hand (if the first didn't work) help with going back to the country of origin. In 1.5 years with Barka's help 522 migrants went back to their homeland.
Piotr also wants to go back to his country. He decided to go to Poland and start an addiction therapy. He will be able to stay at Barka's community project and also gain professional help. "Piotr had a difficult childhood" says Chwarscianek. "It was hard for him to adapt to society in Poland and also here in the Netherlands".
Today Piotr did not come to Barka to look for a job, he came to say goodbye. He chats with Barka employees and laughs a lot. Impatiently walks back and forth. Tomorrow he will be on the bus on his way to Poland.
Volkskrant 26.03.2014
Kaya Bauma – The Volkskrant reporter
Translation from Dutch: Tomasz Sochacki
http://barkaie.org/wp-content/uploads/2014/04/Volkskrant_26032014.jpg
436
640
admin
http://barkaie.org/wp-content/uploads/2012/04/BARKA_logo-300x94.jpg
admin
2014-04-08 12:56:51
2014-04-08 12:57:44
Volkskrant: Polish organization helps homeless in Utrecht