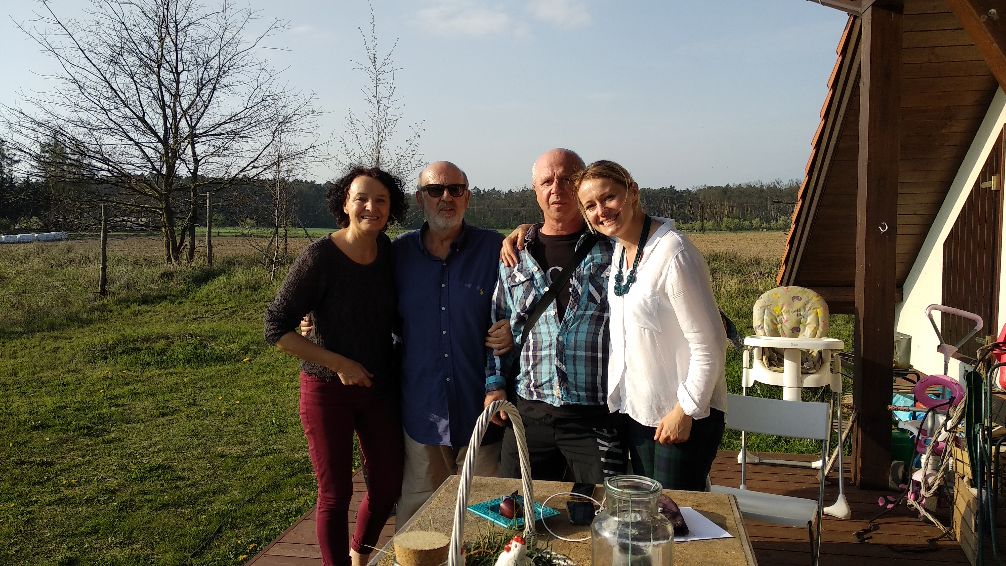 Ponad 5,5 tys. osobom pomogła od początku działania na Wyspach organizacja Barka for Mutual Help. W związku z Brexitem pracy jest coraz więcej. O tym jak zmienia się sytuacja imigrantów w Irlandii i Wielkiej Brytanii rozmawiamy z Ewą Sadowską, koordynatorką organizacji w Londynie i Dublinie.
Jak zaczęła się historia Barki za granicą?
– Barka UK była pierwszą Barką, która zaczęła pracować z imigrantami, ale wtedy organizacja już istniała za granicą. Zaczęło się od Holandii, gdzie w 1996 roku nasi przyjaciele Teresa i Jeron van De Loo założyli Stichting Barka Netherlands. Jej zadaniem było wspieranie działań Barki w Polsce. Tereska i Gerom na przykład zebrali środki na maszynę do dojenia kóz dla ekologicznego gospodarstwa, które prowadziliśmy. Pomagali nam także przy remontach oraz przysyłali holenderskich ekologów, którzy wspierali nas w organicznych uprawach ziemi, a także budowie ekologicznych domów.
W 2009 roku Stichting Barka zmieniła trochę profil działania, odpowiadając na zaproszenie gminy Utrecht, która nie radziła sobie z coraz większą liczbą bezdomnych i bezrobotnych Polaków. W tamtym czasie istniał ogromny problem z agencjami pracy, które na potęgę oszukiwały i wykorzystywały naszych rodaków.
Jednak jeszcze przed oficjalnym nawiązaniem współpracy urzędnicy przyjechali do Barki do Londynu, gdzie już od 2007 roku pomagaliśmy Polakom. W stolicy Wielkiej Brytanii działaliśmy wtedy na najwyższych obrotach, aż w czternastu dzielnicach.
Czy do Londynu też Barka przybyła na zaproszenie lokalnych władz? Jaki Londyn zastaliście, czy wielu było imigrantów, którzy nie radzili sobie z życiem na obczyźnie?
– Sytuacja wtedy była bardzo ciężka. Te obrazy, które pamiętam, kojarzą mi się z wojną w Afganistanie. Ludzie śpiący pod wiatami, na chodnikach, kartonach; po dwudziestu-czterdziestu… Wielu w ciężkim stanie, wykończonych życiem na ulicy, nieregularnym odżywianiem, alkoholem i narkotykami. Ogromne ilości ludzi przychodziły wtedy do dziennych centrów pomocy – głównie Polacy. Dużo było też bezdomnych z niepełnosprawnościami, na wózkach.
Brytyjscy urzędnicy i polski konsulat rozkładali ręce. Barka przyszła wtedy bardzo w sukurs, bardzo pomogła. Pierwszy konsul generalny, z jakim pracowaliśmy w Wielkiej Brytanii, pan Janusz Wach, bardzo przejmował się losem Polaków. Chodził z nami na wszystkie spotkania, jakie odbywaliśmy w dzielnicach. Bardzo interesowały się naszą działalnością także media, nawet tak duże jak BBC – towarzyszyły nam na ulicach Londynu.
W tym samym roku Barka rozpoczęła działalność w Dublinie. Jaka była wówczas sytuacja w stolicy Irlandii? Chyba nie była aż tak ekstremalna jak w stolicy Wielkiej Brytani?
– W 2007 pojechaliśmy do Dublina na rok dzięki dofinansowaniu z Senatu RP. Zaczęło się od tego, że otrzymaliśmy od organizacji pomocowych w Dublinie informacje, że i u nich panuje wysoka bezdomność wśród Polaków. Senat wsparł wówczas nasz projekt w Londynie i Dublinie, i to było dobre, że nie przyjechaliśmy na Wyspy z pustymi rękoma. Samorząd Dublina bardzo się ucieszył, że pojawiła taka organizacja jak Barka. Jednak ten projekt nastawiony był głównie na pomoc w znalezieniu i utrzymaniu pracy.
Wtedy jednak problem bezdomności w Irlandii nie był chyba tak duży…
– Tak, szczególnie w porównaniu z Londynem. Większość ludzi potrzebowała wsparcia psychologicznego, w napisaniu CV, w przygotowaniu się do rozmowy kwalifikacyjnej, zakupie wyposażenia do pracy czy pokryciu kosztu szkolenia, np. Safe Pass. Gdy roczny projekt się skończył, nie występowaliśmy ponownie do Senatu, ponieważ musieliśmy skupić jak najwięcej energii na Londynie, a też Dublin City Council nie był zainteresowany finansowaniem naszych działań. Na kilka lat zaprzestaliśmy działań na Zielonej Wyspie.
Sytuacja zmieniła się w 2011 roku, kiedy napisała do nas organizacja Mendicity. Poinformowała nas, że w Dublinie w wyniku kryzysu gospodarczego nasila się bezrobocie i bezdomność, a do ich centrum pomocowego przychodzi 5 razy więcej Polaków niż kiedyś. Większość z nich uzależniona. Zapytali, czy Barka by rozważyła przyjazd. Delegacja Mendicity przyjechała nawet do Londynu na wizytę studyjną.
Jak Dublin zmienił się przez te 5 lat? Mieliście porównanie sytuacji sprzed i w trakcie kryzysu…
– Centra dzienne były przepełnione naszymi rodakami. Język polski był wszędzie. Ludzie przychodzili nietrzeźwi. Zaczynało to przypominać te obrazy, jakie znaliśmy z Londynu.
Większość tych osób utraciła pracę w wyniku kryzysu, ale były też takie, które przyjechały do Irlandii na fali opowieści o tym, jak było kiedyś, nie zdając sobie sprawy, jak trudno jest obecnie o zatrudnienie z nierealistycznymi wyobrażeniami. Sporą grupę stanowiły też osoby ze starszego pokolenia, z przyzwyczajeniami jeszcze z PRL-u, którzy nie znali ani słowa po angielsku, przyzwyczajeni do tego, że państwo powinno się nimi zaopiekować, że fakt, iż mają dwie ręce i chęci, wystarczy do tego, by sobie poradzić. Zaskakująco dużo było tych osób w wieku 50, 60 plus. Oni często padali ofiarą wyzyskiwaczy, podpisywali "umowy" o pracę, które nie były nic warte.
Teraz minęło kolejne kilka lat i wydaje mi się, że w Irlandii nadszedł inny etap bezdomności. Doszły zwykłe rodziny, często z małymi dziećmi – ofiary kryzysu mieszkaniowego. Mniej widać Polaków śpiących na ulicach, wielu otrzymało miejsca w hostelach na pół roku, mają zasiłki, są świetnie zorientowani w irlandzkim systemie opieki społecznej, dostają mieszkania socjalne…
– Tak, to prawda. Jeszcze też zmieniły się nieco problemy tych osób, widać więcej narkomanów niż kiedyś. Kiedyś dominował alkohol, a teraz moim zdaniem jest to pół na pół. O rodzinach to też bardzo dobra obserwacja, kiedyś praktycznie nie zdarzało się, by bez dachu nad głową zostawała rodzina z dziećmi. Podobne zjawisko obserwujemy w Londynie.
Zmienił się też przedział wiekowy, jest więcej osób młodych. Spotykamy także więcej osób z problemami mentalnymi. Część osób przyjeżdża już z problemami, a u innych pojawiają się one w wyniku trudnego życia na ulicy. Kiedyś też rzadziej zwracały się do nas o pomoc więzienia. Teraz i w Londynie, i Dublinie mamy zdecydowanie więcej zapytań o odwiedziny czy informacje o Polakach, którzy wkrótce wychodzą na wolność i będą potrzebowali wsparcia.
Chciałabym nawiązać do osób z problemami mentalnymi. W październiku w dublińskim Dochas Centre odebrała sobie życie Polka, matka dwójki dzieci. Kobieta wykazywała jeszcze przed trafieniem do więzienia skłonności do samookaleczania. Ta tragedia rodzi pytanie, czy migranci w Irlandii mają dostateczny dostęp do pomocy psychologicznej i terapeutycznej?
– Ta sytuacja pokazuje, że jednak jest tu jeszcze sporo do zrobienia. Z tego, co obserwujemy, to ogólnie rzecz biorąc, instytucje i organizacje w Irlandii są bardzo nastawione na człowieka. Ale jednak jest tu o tyle trudność, że przebywa tu wielu obcokrajowców, którzy mają inną mentalność, kulturę, a do tego dochodzi bariera językowa. Wielokrotnie podczas wizyt w więzieniach osoby mówią nam, że czują się niedostatecznie słyszane. Nawet ci, którzy mówią coś niecoś po angielsku, mają poczucie, że to nie jest ten sam poziom traktowania, co obywateli irlandzkich. Być może jest to ich subiektywne odczucie, ale może jest jeszcze coś do zrobienia…
W Wielkiej Brytanii pojawił się kolejny problem – Brexit. Jak jest on odczuwany w dziedzinie pomocy społecznej?
– Widać, że osoby wyjeżdżają z Wielkiej Brytanii. Spotykamy Polaków z Wysp wszędzie tam, gdzie pracujemy za granicą: w Islandii, Holandii, Irlandii, Niemczech, Belgii. Wyjeżdżają ze względu na niepewność, jaki będzie status Polaków po opuszczeniu Unii Europejskiej przez Wielką Brytanię.
Również organizacje pomocowe żyją w niepewności. Mogę powiedzieć na przykładzie Welcome Centre Healthy Living Project w Redbridge, z którym współpracujemy, że tam pracownicy są kompletnie zdezorientowani i zestresowani tym, że będą musieli posiąść ogromną ilość nowej wiedzy, by doradzać tym, którzy przychodzą po informacje i wsparcie. Poza tym też kierownictwo nie wie jeszcze, jak będzie musiało postępować z pracownikami imigracyjnymi. To jest bardzo trudna sytuacja.
Dla Barki paradoksalnie Brexit jednak da większe pole do popisu. Miesiąc temu zaprosiła nas kolejna dzielnica Londynu – Waltham Forest. Tam podobno są całe połacie lasków, gdzie Polacy koczują w namiotach. Władze tej dzielnicy powiedziały nam, że w związku z Brexitem bardzo się zawężają opcje pomocy dla na przykład Polaków, więc Barka będzie bardzo potrzebna. Władze nie chcą deportować ludzi, chcą im raczej pomagać. Oczywiście, jeśli będą to osoby, które nic od siebie nie dają, nigdy nie pracowały na Wyspach, to dla nich jedyną opcją będzie deportacja, ponieważ będzie im groziła śmierć na ulicy. Zamiast deportować, władze wolą dawać najpierw możliwość dobrowolnego powrotu poprzez Barkę.
Czy już wiadomo, jakie konkretnie przywileje stracą Polacy?
– Na razie nic jeszcze nie jest pewne, ale z tego, co mówili przedstawiciele dzielnicy Waltham Forest, to nie będzie możliwości korzystania z bezpłatnej opieki medycznej na przykład. Co gorsza, w tej dzielnicy nie ma ani jednego dziennego centrum pomocowego, co jest ewenementem w Londynie. Jest tylko grupa terenowa i centrum doradztwa, ale tam pracują tylko Brytyjczycy, nikt nie mówi po polsku. A tymczasem ci nasi rodacy, którzy koczują w namiotach, w większości nie znają angielskiego. Dla dzielnicy Barka to ogromny ratunek.
Czy bezdomni z Wielkiej Brytanii wracają do Polski?
– Myślę, że dla wielu tych ludzi, którzy już byli na emigracji w Wielkiej Brytanii, nie jest problemem wyjechać do pracy do Holandii, Niemiec. Raczej próbują szczęścia w innych krajach Europy Zachodniej niż w Polsce.
Jakie są najważniejsze plany Barki na przyszłość?
– Jednym z najciekawszych działań rozwojowych jest Norfolk na północy Anglii, gdzie pewna pani przekazała dom i ziemię, by powstała tam wspólnota na wzór tych, które funkcjonują w Barce w Polsce. Jesteśmy w trakcie przygotowywania tego projektu. Jest to dom do remontu i około 20 hektarów ekologicznej ziemi. Planujemy tam uprawiać organiczne warzywa i owoce do sprzedaży w lokalnych restauracjach. W ten sposób będziemy pozyskiwać fundusze na utrzymanie wspólnoty. Chcielibyśmy zacząć od małej grupy około 7 osób, a docelowo dojść do 18. To ma być grupa mieszana – nie tylko imigranci, ale także Brytyjczycy. Byłaby to pierwsza wspólnota Barki poza granicami Polski.
Nadal chcemy też realizować nasz program powrotów, który się bardzo dobrze sprawdza.
Podsumowując naszą rozmowę, ilu osobom pomogła Barka od początku działania na Wyspach?
– W Wielkiej Brytanii od początku działalności pomogliśmy około 5 tys. osób, a w Irlandii 500 – mówimy o samych powrotach.
Dziękuję za rozmowę.
Źródło: Londynek.net
http://barkaie.org/wp-content/uploads/2012/04/BARKA_logo-300x94.jpg
0
0
Aneta Kubas
http://barkaie.org/wp-content/uploads/2012/04/BARKA_logo-300x94.jpg
Aneta Kubas
2019-11-27 14:28:35
2020-01-15 12:15:28
Barka na pomoc imigrantom na Wyspach