Pani Jadwiga Sadowska Asystent lidera Barka Irlandia
Chciałbym Pani serdecznie podziękować za współpracę z Ambasadą RP w Dublinie prowadzoną w ramach działalności Barka For Mutual Help Ireland. Program Barka Irlandia, realizowany w Dublinie od stycznia 2012 r., stanowi przykład udanego projektu pomocowego adresowanego do obywateli Polski. Działalność polskiej organizacji społecznej udzielającej bezpośredniej pomocy za granicą to unikatowa formuła, która przynosi wymierne rezultaty. Współpraca z lokalnym samorządem i partnerami społecznymi w Dublinie pozwoliła na stworzenie ośrodka dla osób najbardziej potrzebujących wsparcia.
Udzielanie pomocy i wsparcia obywatelom Polski jest również jednym z istotnych zadań Wydziału Konsularnego Ambasady RP w Dublinie. Współpraca z polskimi i irlandzkimi organizacjami społecznymi w tym obszarze stanowi ważny element w działalności służby konsularnej. Dzięki intensywnej kooperacji z Barką Irlandia, prowadzonej od początku funkcjonowania programu, pomoc świadczona naszym obywatelom odpowiada w lepszym stopniu coraz to nowym potrzebom. Na podkreślenie zasługują odnotowane ostatnio przypadki powrotów do Polski osób znajdujących się w ciężkiej sytuacji życiowej, którym udzielono również pomocy po powrocie do kraju w ośrodkach Fundacji "Barka".
Z zadowoleniem przyjęliśmy informację o przedłużeniu programu Barka Irlandia na kolejny rok. Jestem przekonany, że program dubliński będzie realizowany w przyszłości z pełnym poparciem Ambasady RP w Dublinie. Korzystając z okazji chciałbym złożyć gratulacje Fundacji Wzajemnej Pomocy "BARKA" z okazji 25-lecia działalności, której efekty dostrzegamy również w Irlandii.
Jeszcze raz proszę przyjąć serdecznie podziękowania za współpracę i życzenia dalszych sukcesów w działalności społecznej oraz w życiu osobistym.
Piotr Rakowski
Charge d'affaires a.i.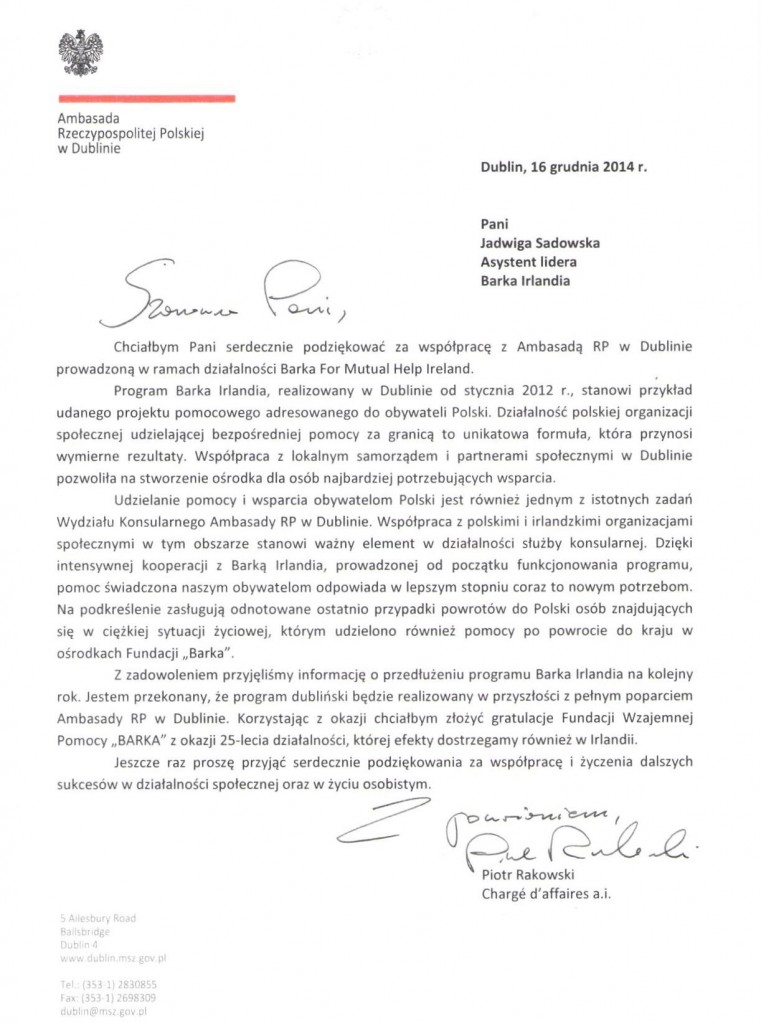 http://barkaie.org/wp-content/uploads/2012/04/BARKA_logo-300x94.jpg
0
0
admin
http://barkaie.org/wp-content/uploads/2012/04/BARKA_logo-300x94.jpg
admin
2014-12-22 15:36:49
2014-12-22 15:37:27
Podziękowania Ambasady Rzeczypospolitej Polskiej w Dublinie