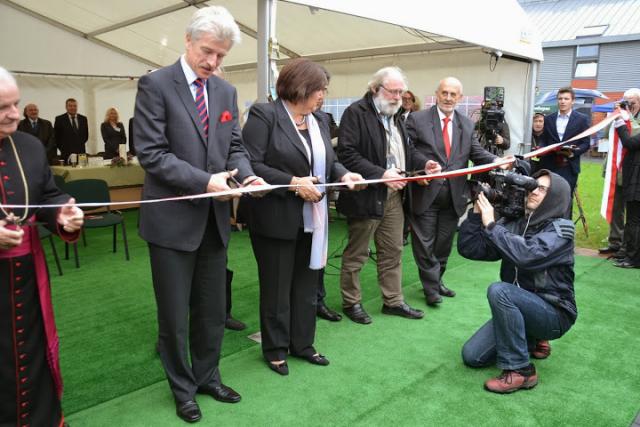 Local initiatives can be a great example of promoting and supporting social entrepreneurship and more socialized economy in Europe – which the opening ceremony of Wielkopolska Solidarity Economy Centre (WSEC) named after Cyryl Ratajski (president of the city of Poznan in the 20ties and 30ties) in Poznan proved.
On the 17th of September 2013 distinguished guests came to the newly opened building complex at sw. Wincentego 6 in Poznan : Polish First Lady- Mrs Anna Komorowska, the Mayor of Poznan- Ryszard Grobelny, Marshal of Wielkopolska region- Marek Wozniak, a representative of Velux Foundation from Denmark-Jens-Joergen Pedersen and CEO of Velux Polska Jacek Siwinski. Also more than 700 guests including mayors, presidents, representatives of various local communities, national parliament, organizations and also academic environments and artists were present.
The participants unanimously stated that the event was : "A real celebration of solidarity". It wasn't just the opening as a one-time act but emphasizing and highlighting the role of creating environment and many actions needed to improve the quality and meaning of solidarity in our country, especially in terms of strengthening the awareness of the constitutional principle of social market economy as the strategy for local and regional development.
"It's all about creating the proper conditions and space for people who are excluded in the communities and those who can't see their own potential" said Barbara Sadowska, who was leading the debate, the first part of the meeting in Poznan.
Tomasz Sadowski, the host and the chairman of Barka Foundation for Mutual Help drew attention to the value of responsibility for the local communities and need to connect activities of self-government with entrepreneurial and business activities to find a financial chance for development and inclusion.
It happened in the case of Wielkopolska Solidarity Economy Centre. WSEC was created thanks to the financial support of VELUX Foundation and funds from the Wielkopolska Regional Operational Programme (total amount -more than 5 milion PLN).
"We are convinced that the project of Wielkopolska Solidarity Economy Centre corresponds very well with the goals of Velux Foundation, which wishes to support the initiatives improving social conditions and creating better development opportunities to help the helpless and socially excluded because of their disabilities or poverty. We are particularly interested in helping children and young people in Poland. We can pursue our goal by supporting projects carried out by specialized organisations such as Barka Foundation for Mutual Help. Barka's commitment and ideas contribute to changing the situation of many people in need. We hope that promotion and further implementation of social economy will be also a success, as the social economy concept is close to Velux values "- said Jens-Joergen Pedersen from Velux Foundation.
The need for proper use of European funds was stressed by the Marshal of Wielkopolska region, Marek Wozniak. The Mayor of Poznan, Ryszard Grobelny expressed the need for continuous cooperation between various institutions.
The speech of Andrzej Porawski, the director of Alliance of Polish Cities, who spoke about " The idea of social economy in social policy of Cyryl Ratajski, Mayor of Poznan in the years 1922-1924 and 1924-1935" was very interesting to understand better the choice of the patron of WSEC.
One of the priority issues concerning the opening of WSEC is a matter of real fulfillment of the idea of solidarity . This topic was discussed by professor Zbigniew Wozniak, from the Adam Mickiewicz University in Poznan in his speech titled "From solidarity to the solidarity economy".
WSEC is not only the new buildings but the atmosphere, which has been present throughout more than 24 years of activity of Barka Foundation.
"The atmosphere of this place has been, for years, very warm. What raises my highest appreciation is that you know how to apply in Poland what you have learned from partners in Europe, and then to replicate it in other communities, but also outside Poland"- said the First Lady, Anna Komorowska. First Lady met with people who work in the infrastructure of WSEC four buildings including: the Gallery of paintings by Wojciech Siudmak, educational classes, hotel, Barka Social Club, Social Integration Centre and Bistro.
WSEC will operate on a broad scale thanks to support and commitment of its partners. Most of the participants of WSEC opening celebration signed the agreement of cooperation for development of WSEC.
Wielkopolska Solidarity Economy Centre in Poznan will provide social and professional training and reintegration for long-term unemployed people and education of staff and local communities in the topics of integration and social entrepreneurship. WSEC will promote initiatives of developing more socialized economy, which puts the person and his/her work on first place, in accordance with the constitutional principle of the political system in Poland based on social market economy.
Local television coverage from the WSEC opening


Photo coverage from the WSEC opening

Wishes sent on the occasion of WSEC opening
http://barkaie.org/wp-content/uploads/2013/10/WCES_opening_event.jpg
427
640
admin
http://barkaie.org/wp-content/uploads/2012/04/BARKA_logo-300x94.jpg
admin
2013-09-18 18:29:26
2014-03-11 09:00:39
Wielkopolska Solidarity Economy Centre named after Cyryl Ratajski – report from the opening event